Welcome
Welcome to Denmarks first real Salt Water Put&Take.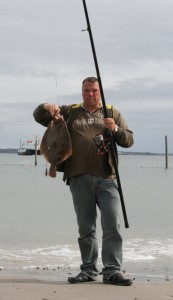 We have fenced in a piece of the Thyborøn channel – right where the North Sea and the Limfjord meet. With a location in a lagoon on the lee side of the dike it is possible to fish in almost all kinds of weather. Bring the family to a beach with unique fishing possibilities.
NOTE (as of April 2016):

The business development of Thyborøn Harbour has caught up with the area around the Saltwater PutNtake. The harbour's new floating dock is the reason why we cannot open at our normal site. We are working on finding another site, but unfortunately we can't give any date for when it will be possible to open again.
We release cod, saithe, turbot, plaice, catfish and other fish in all sizes. Which species we release when – depend on the time of year, since it is local fishermen from Thyborøn who bring the fish in.
Prices
2 hours 100 Dkr.
3 hours 130 Dkr.
4 hours 160 Dkr.
6 hours 200 Dkr.
The whole day (10 hours) 300 Dkr.
Max 2 fish per person per hour
You may use one fishing rod per person.
Fishing is allowed around the clock.
The fisheries authorities have stated that you need a Danish fishing license.
Catch guarantee
If you don't catch anything, you can get a fresh plaice at the fishmonger's in Thyborøn at the latest the day after you've been fishing.
You may fish from the beach or the stones/rocks on either side of the lagoon. Fishing can be done with spoon bait, lug worm or sand eel.